Each leadership training programme is highly applicable and practical, with a focus on the real issues leaders face on a daily basis, rather than getting bogged down in theory and mumbo jumbo. Here at Fuel Learning we have designed and facilitated training programmes for thousands of people at all levels of leadership, in diverse industries, in different continents.
Whatever your needs are, we will find a solution fit for you. Our programmes range from year-long modular learning through to one day practical intervention, all of these supported by group coaching or one to one.
In addition to designing and building leadership programmes that enable organisations to thrive, we also ensure many of them are accredited to a professional standard – such as a Diploma in Leadership and Management or Chartered Manager.
Common subjects included in our leadership training programmes:
At Fuel we always work to understand your precise requirements, before embarking on a personalised programme. However, to give you a glimpse, here are just some of the common subjects included in our leadership programmes:
Appraisal Training
Project Management Training
Recruitment Skills Training
Team Building Days
Chairing Meetings Training
Talent Management
Change Management
Task Delegation
Team Motivation
Performance Management
And many more...
Our facilitators are all vastly experienced, often with over 15 to 20 years in the L&D industry. Unlike the vast majority of learning and development providers, all of our facilitators are in-house, providing a more consistent and personalised experience for every Fuel client.
Can your programmes be paired with recognised accreditations?
Yes they can, we can offer formal management and leadership qualifications or accreditations as part of our leadership programmes, including from the CMI and ILM. We will work with you every step of the way to find the right qualification and to set out the work required.
To see the full list of who we've worked with, please visit our about us page. 
We have recently provided leadership training programmes to: XPO Logistics, Matches Fashion, M&S, Ted Baker, and ASOS, together with countless other leading companies.
Some of our ongoing partnerships are at 10 years and counting, with an ever-developing range of leadership, talent assessment/development and team initiatives.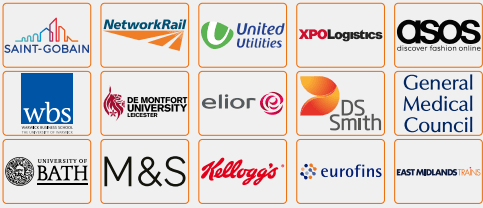 Leadership Training Programme example
The Leadership Challenge
Our Off-the-Peg 4 day leadership training programme covers many of the most commonly required components of leadership.
We have worked with leaders and organisations all over the world to create transformational change in the way leaders operate and execute to achieve exponentially demanding results.
So why is improving your organisation's leadership skills important? Organisations measured as having good leadership throughout the organisation outperform those measured to have poor leadership by 12x in financial terms. Employees with good leadership are 6x more committed to their work and level of performance compared to those measured with poor leadership.
Are the leaders throughout your organisation capable, focused, motivated and getting the most out of the people they lead? Can you afford them not to be?
What is the Leadership Challenge?
The programme has been designed to energise, inspire and motivate your leaders to step up and become outstanding. We have utilised the practices and models from the world's most prominent leaders and thinkers to create the Leadership Challenge.
Typically it consists of a 2 x 2 day modular programme – although many other formats are applicable depending on needs and level of investment.
The programme in a nutshell
Foundational Principles of Leadership – this mini module enables your leaders to get the basics right, understand the difference between leadership and management, gain awareness of the common leadership traps and develop new behavioural strategies

Situational Leadership – this mini module enables your leaders to be aware of the different styles of leadership and to adapt their style depending on the situation and the requirement of individuals

Be an Outstanding Model Leader – this mini module enables your leaders to 'find their voice' as a leader and be the best leader they can everyday in every situation, align behaviour with intent, become credible as a leader

Create Direction and Drive Alignment – this mini module enables your leaders to be forward thinking, able to see and cope with rapid change, give life to the company vision, enlist people by appealing to shared aspirations aligned to the company direction

Energise and Inspire – this mini module enables your leaders to energise and inspire by recognising people for the right reasons, setting and achieving high standards, giving constructive feedback, creating a team community and spirit and bringing the company values to life

Challenge the Processes – this mini module enables your leaders to be innovative and creative with fresh ideas for growth, remove obsolete processes, seek out new opportunities, challenge and manage stakeholders meaningfully and appropriately

Deliver Results – this mini module enables your leaders to create a climate of trust, drive collaboration, promote cooperative goals, play to peoples strengths, develop confidence and competence
The benefits
You will experience the immediate impact of the programme through common language, behaviours, tools and heightened awareness about what leaders are and should be doing – the bar will be set high!

You will experience an impact on business results

Your leaders will be more capable and motivated to lead your employees now and in the future

Your leaders will be able to maximise on change more effectively and swiftly

Your leadership will have the tools and techniques to continue learning themselves as well as developing peers and colleagues for years to come

Expect an impact on the organisational climate and culture – increased engagement, commitment, satisfaction and energy towards creating a positive future
Who is the Leadership Challenge aimed at?
We have run versions of the Leadership Challenge with everyone from CEO's and executive boards of international companies to first line supervisors. The programme is relevant for anyone who has others reporting into them. We can tailor the programme to meet differing needs whilst maintaining the integrity of the Leadership Challenge concept.

And don't forget, this is just one example. Our team can create a completely bespoke programme around you, simply get in contact to discuss your requirements. 
Unit 6
Measham Lodge Business Park
Gallows Lane
Measham
DE12 7HA
Tel: 0121 651 1200
Email: info@fuellearning.com