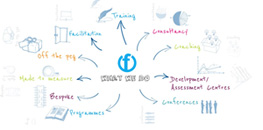 Conferences
The company has spent literally tens of thousands of pounds taking a relatively large group of employees out of the business for the day or two to communicate, inspire and energise them. So why is it most people dread the 'boring' company conference or see it as an opportunity for a night away with a few drinks?
We will bring your company conference to life! We can help theme, organise, structure, train key speakers and facilitate your conference to ensure it has the desired impact and delivers a return on investment. We will work with the company leadership to ensure they are inspiring and delivering what the employees expect and beyond.
We support many clients with conferences big and small. Our conferences services include everything from facilitating, MC'ing, full logistical support before, during and following the event. We have facilitated conferences for 10 –  1000+ people, providing fully engaging, interactive experiences.
Our clients tell us the conferences we design (in partnership with the client) are always very well received and set the standard for future conferences – that is why once we have done 1 conference for you, we normally become a regular feature.