During that time participants will attend and receive...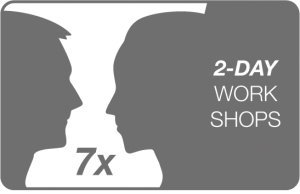 Participants will learn new skills, tools and behaviours to maximise their potential as leaders and managers.
They will have the opportunity to practice using the tools in a safe, facilitator led environment, whilst bouncing ideas off colleagues learning the same skills.
INTUITIVE & PRACTICAL ONLINE LEARNING
Between the face to face workshops, participants will be required to login to the Fuel Hub, where they will be guided through an intuitive series of learning modules, designed to build greater knowledge and comprehension of leading and managing.
The participants will have access to many templates and tools they can use to support application of the learning back at work.
If required, participants will have the opportunity to attend additional support days, designed to ensure they are able to complete their workplace application tasks at the required standards.
Learner days are not mandatory and will only be applied to participants who want additional support.
COACHING & CONTINUED SUPPORT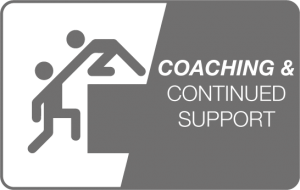 In addition to the face to face workshops and optional learner days, participants will have access to their programme facilitator and the Fuel quality team via phone, email, video call and scheduled meetings throughout the programme duration.
PROGRESS REVIEW PARTICIPATION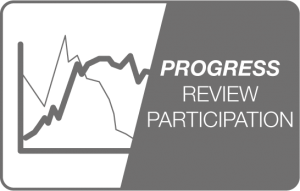 In addition to the coaching and support from Fuel, throughout the programme participants will be supported by their line manager.
To ensure the participant is on track and getting the required opportunity to grow and develop their skills, they will participate in a conference call with their line manager and the Fuel team. This will happen approximately every 12 weeks and will be scheduled in advance.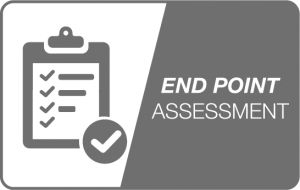 The last stage of the programme is an End Point Assessment (EPA). This a simple process designed to formally recognise the significant development and effortof the participants.
Successful completion will give the participants a nationally recognised level 5 certificate.
LEVEL 5 LEADERSHIP & MANAGEMENT WORKSHOPS OVERVIEWS
The face to face workshop modules are designed to be fully interactive, engaging and fun. Each day is split into 4 mini sections with a review and application planning session at the end of each. This bite-size approach keeps the participants focused and engaged throughout the day. The regular reviews and action planning ensures the participants have a clear approach to applying their learning in the workplace. It is advisable for participants to bring laptops to the sessions. Fuel can provide laptops when necessary.
INITIAL ENGAGEMENT & INDUCTION
The initial engagement and induction are designed to ensure the participants have a full understanding of the programme, the required commitments, the support from their organisation and line manager. Participants will complete most of the induction, such as providing the required personal data, via the Fuel Hub. This is a secure digital process and starts the participant on their journey to starting their programme.
The first module focuses on setting the scene for the programme and starts the individual on their development journey. Reflective practice is an essential management tool which supports the development of knowledge, skills and behaviours in the work place. By consciously analysing own performance, decision making, leadership and management skills (in different situational contexts); opportunities for on-going development can be identified. Learners will explore their own personal preferences using the Insights Discovery module and their personal profile will form the basis of their personal development plan. Learners will explore the 5 Principles of Leadership and identify actions designed to promote a culture of mutual trust, respect and support.
BUILDING RELATIONSHIPS THROUGH EFFECTIVE COMMUNICATION
The second module starts to explore how to build meaningful and impactful professional relationships with teams, colleagues and customers. Good relationships, whether they are with customers, suppliers, partners or staff, are a key contributor to an organisation's success. To build stakeholder relationships that are long lasting and sustainable, they need to be planned and developed.
This module explores the types and purposes of stakeholder relationships and the skills required to overcome challenges and manage these effectively. Learners will explore influencing and negotiation techniques and will combine these with the Insights Discovery knowledge for enhanced success.
LEADING & MANAGING OTHERS
The third module provides key tools and techniques to successful project management. This will support the individual to complete a successful project as part of their programme. Whilst the scale, significance and complexity of a project will vary, the principles of carrying out a project will ultimately be the same. This module aims to equip managers with the knowledge, tools, and techniques for managing and monitoring projects. It also identifies approaches to managing risk and responding to the needs and expectations of stakeholders whist delivering value for money.
The skills a manager will learn, will not only enable them to improve their own working practice, but will impact on the achievement of project outcomes.
RESULTS FOCUSSED PROJECTS
This module provides key tools and techniques to successful project management. The ability to manage projects is a vital skill for all leaders. This module focuses on the knowledge and skills required to manage projects successfully and overcome problems and challenges. It requires the learner to evaluate the methods and tools for planning tasks and activities, as well as knowing how to implement and manage project activities, build stakeholder relationships, manage resources and risk, monitor progress and report on outcomes.
This module focuses on operational management approaches and models to assist in delivering organisational goals and strategic plans. The ability to translate organisational objectives into operational plans is an essential leadership skill. The module focuses on the importance of understanding the strategic direction of the organisation and how to contribute to the strategic planning process. Learners explore the knowledge and skills required to create and deliver operational plans. This includes the need to set key performance indicators, monitor quality and outcomes against the plan, and know how to effectively report on findings. Financial acumen enhances decision making skills, which in turn supports management of projects, tasks and functional areas.
Learners will evaluate the sources of finance for organisations, and understand the principles for setting and managing budgets in line with regulatory and organisational guidelines. This module has been designed to enhance the learner's confidence and credibility in financial management, which will translate into improved leadership skills.
LEADING INNOVATION & CHANGE
This module is focused on driving change and innovation to support organisations to continually improve and reach key goals. A key skill is motiving individuals to drive and embrace change at all levels. Change is inevitable if an organisation is to maintain competitiveness and currency of practice. This module has been designed to enable the learner to evaluate types and reasons for change within organisations and be able to select and apply theoretical models for its management. The purpose is not only to enable learners to develop the skills to manage change and achieve set objectives, but to do so in a professional manner with open and honest communication throughout the entire process. Innovation has the power to transform organisations, teams and individual performance. When a culture of innovation and entrepreneurship thrives, new ideas and initiatives flourish.
LEADING TEAMS FOR SUCCESS
The final module builds on all of the key skills learnt throughout the programme to create high performing teams and manage talent within the business. This module explores theoretical and practical approaches to developing, leading, and managing teams (remote or multi-disciplinary). Managers will identify the techniques used to monitor and manage individual and team performance, assess current and future capabilities and adopt approaches to respond to these. On successful completion of the module, managers will not only understand how to meet the challenge of leading individuals and teams, they will know how to support, motivate and inspire them to exceed expectations.
OFF THE JOB & WORKPLACE APPLICATION
It is a requirement of the programme, that all participants are able to spend 20% of their normal working hours to developing and evidencing they are gaining and applying new skills, behaviours and knowledge. The 20% is for the duration of their Level 5 Leadership & Management programme..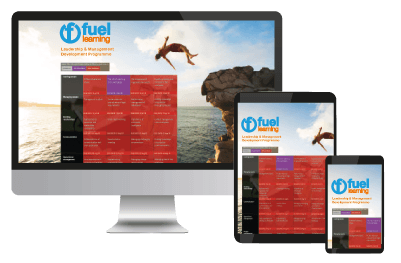 ONLINE TOOLS
As part of Level 5 Leadership & Management programme, participants will have access to the Fuel Hub; an intuitive, web-based system for participants to access essential learning material, information, documentation and complete their portfolio of work.